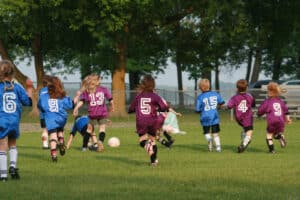 If your child is a budding young soccer star in the making, that's reason enough to consider enrolling in one of Long Island's soccer camps. A specialty Soccer Camp in Nassau or Suffolk will help children develop the necessary skills and fundamentals of soccer while getting a lot of exercise, building relationships and having a great time.
There are several types of camps in Nassau and Suffolk counties with indoor and outdoor locations. They offer year-round soccer camps, taught by professional high-school and college level instructors with knowledge on how to work with kids of all ages. Programs focus on developing the complete athlete by improving strength, speed, power, core stability, and agility. They harness the power of positive motivation in helping young athletes develop the confidence to aim for higher and higher goals. No matter what age level, young soccer athletes can have a safe, fun, and challenging environment in which to excel.
Some of the many great benefits include:
▪ Expert Coaching
▪ Challenging Activities
▪ Skill Development
Tactical Instruction
Game Discipline
Individualized Training & Attention
Residential Camps offers a unique experience where players reside on site and spend close to 8 hours a day on the field working on technical and tactical topics, along with free play tournaments. There are many off the field, non-soccer activities available at some residential locations as well. In addition to the overnight camper options, some offer extended day camper options as well.
Regional Development School (RDS) Camps are designed for players aged 8-14 with a strong background in travel soccer. They offer both day and residential camps, with acceptance to the residential camps subject to tryouts.
Team Camps are designed for travel team players who want to register the entire team for specialized group team training.
Skills Camps are available for individual players between 7 and 14 years old. The camps focus specifically on ball skills.
Mini KICK Camps are targeted to 5-6 year old players and include ball awareness, physical movements in a fun environment. Young players get a great introduction to the sport and working together in a group environment.
Fall, Winter, Spring and Summer Training Clinics usually focus on specialized individual development. The clinics are a way for players to receive extra individualized soccer training while in season. Winter season clinics provide a great opportunity for players to improve their individual technical ball skills.
Get the Best Soccer Training on Long Island
If you want to help your child become a well-rounded soccer star, you need the best training possible. With some searching you will find training options are available for ages of 5 to 18.
These training opportunities will definitely help kids with learning new skills and the techniques needed to succeed on the soccer field.
Private Soccer Coaching on Long Island is available in various areas with coaches offering personal training sessions and packages for kids of all ages and ability levels who would like the benefits of training with a coach in a small, one-on-one setting. Private coaching is a great option for kids that are new to working out or have taken an extended period of time off from exercise. It is also a great fit if your child has very specific needs or goals in mind and you are not sure how to reach them on your own, or just want to learn proper technique from a seasoned professional.
Check Out Soccer Training Facilities on Long Island
Check out facilities in or near your area of Long Island and determine what would be the most beneficial type of soccer training for your child.