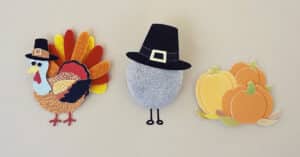 Thanksgiving is a wonderful time to get together as a family and immerse yourselves in the holiday season.  There is a myriad of things you can do with children of all ages to get them into the spirit. It also serves as a perfect opportunity to teach youngsters about gratitude and what Thanksgiving means to you and yours.  From crafting, to decorating the house, to cooking and baking – Your Local Kids is your source for filling the season with family fun!  Kids will have a blast getting involved, and you'll love seeing your family's bond getting stronger!
Crafting
Crafting with your kids is a fun way to spend time and create together.  You're not only creating the project itself, but memories that will last a lifetime, as well!  Your house will look festive and quaint throughout the season with homemade turkeys, gourds, and whatever else you and your kiddos think up!  Aside from being a ton of fun, crafting with children is also developmentally beneficial.  According to North Shore Pediatric Therapy, choosing crafts at your child's skill level can boost self-esteem, help develop their fine motor skills and coordination, and can teach them self-regulation (for instance, when they need to wait for crafts to dry).  You can find Good Housekeeping's compilation of craft ideas and tutorials for varying skill levels here.
Decorating
Decorating for any holiday with your family is another great bonding tool and will bring a festive spirit into your home.  You and your kids can use their own homemade crafts along with store bought decorations to transform your house into a Thanksgiving wonderland.  Setting the dinner table with kid-created centerpieces, napkin holders, and the like will give your table-scape a warm, homemade feel that you and your children can take pride in.
Cooking
To many families, the best part of Thanksgiving is the food!  While many recipes can be too complicated or dangerous for children to partake in, there are still many ways in which kids can get involved and help out in the kitchen.  Parenting.com has a wonderful list of Kid-Friendly Thanksgiving Recipes that are fun and easy to make and will please even your pickiest eaters!  Parents can also use cooking for the holiday as an opportunity to educate children on kitchen safety and the importance of gratitude.
Fall Fun
Fall activities are by no means in short supply on Long Island.  The weather and scenery are perfect for a family hike or playdates at one of LI's many parks.  For the days when weather is not on your side, there are music, art, and craft classes for kids – some with a Thanksgiving theme.  There are many farms to choose from if you're looking to shop for fresh produce for Thanksgiving Dinner, pick some pumpkins for decorating your home, or partake in a festive hay ride or corn maze.  Many businesses directed toward entertainment for children are even holding special events the Friday after Thanksgiving as most kids and adults are off from school and work.  Visit Your Local Kids' Events Calendar to see what's happening on Long Island all month long!