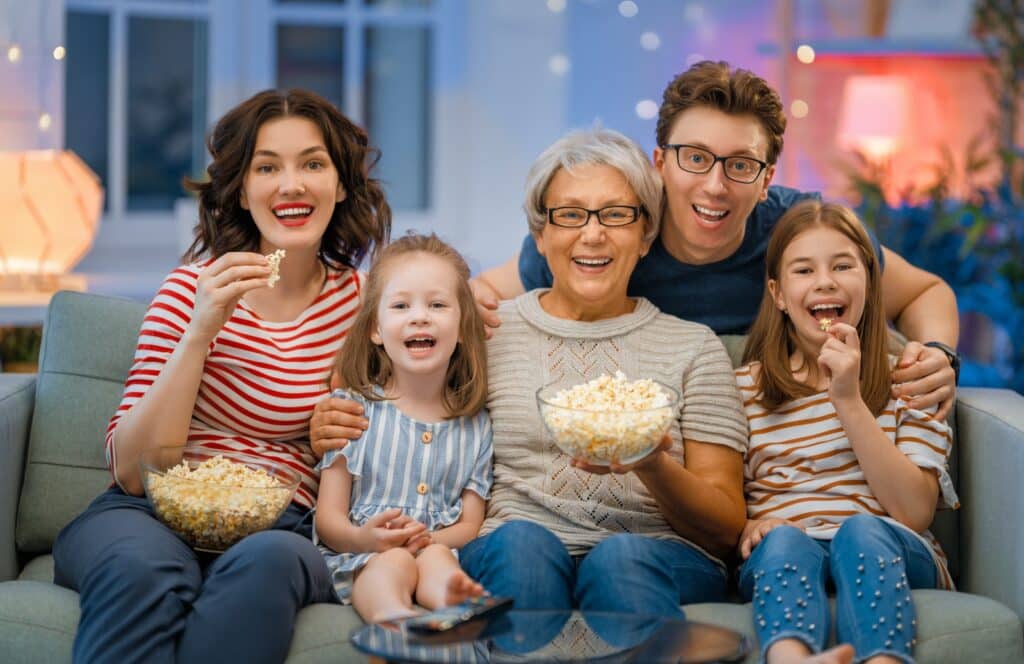 The days are getting shorter and colder and the holidays are upon us! Its the perfect time to pop some popcorn and get ready for a family movie night or two. Today we're coming at you with the top 20 Christmas movies to cuddle up and watch with your family!
Elf (2003)
A story of an Elf who doesn't belong. And his journey to NYC to find his dad. This movie is fun for the whole family. Don't forget to warm your vocal chords with some hot coco for the sing along! This movie is available on Hulu or Freeform this holiday season.
A Christmas Story (1983)
A Christmas classic, Ralph's story of his high hopes for the perfect Christmas day. Follow along with his trials and tribulations to get the perfect gift. Available on Hulu.
The Santa Clause (1994)
A divorced dad is trying to navigate Christmas eve with his son when they're suddenly transported to the north pole! Scott finds out he's in line to become the next Santa! And has to learn the biz! This movie also has a sequel. Available on Disney +.
Home Alone (1990)
Good Ole Kevin. What a fun classic movie to share with your kids this holiday season! Don't forget your pizza! This movie also has a sequel and we're sure your kids will definitely look forward to more Kevin. Available on Disney + and Freeform.
Polar Express (2004)
This movie based on the book is about a boy who takes an imaginative adventure through the North pole. Buckle up for this exciting ride. Get in theme with Pjs and snacks! Available on AMC and Sling Tv.
Noelle (2019)
This new holiday classic is sure to be a fan favorite in your home. This is the holiday movie with the lesson, girls can do anything. Even be Santa! Buckle up for a fun adventure as one elf get the ultimate promotion. This movie is available on Disney +
The Grinch (2000)
The movie based on the book by Dr Seuss, about an orphan who grows to have a cold heart and a little girl who renews his faith in humanity and the Whos. This movie is available on Netflix and Freeform.
Rudolph (1998)
This movie is about Santa's most trusted reindeer. His story from zero to hero is bound to inspire your little ones. This movie is available on Amazon.
Frosty the Snowman (1969)
This classic never ages. The story of everyone's favorite snowman. You know and love him. Watch him play with the kids and earn his hat! Available on Vudu.
A Christmas Carol (2009)
The reimagination of Dicken's story staring Jim Carry. Scrooge goes on a journey to meet three spirits and find the true meaning of Christmas. This movie is available on Disney +
The Nutcracker (2018)
Have a little dancer in your life? This new version of the Nutcracker will excite all the member of you household as Clara dances through different realms and meets new characters and friends. This movie is available on Disney + and Amazon.
Jingle Jangle (2020)
A new musical movie by Netflix… "Decades after his apprentice betrays him, a once joyful toy maker finds new hope when his bright young granddaughter appears on his doorstep."
Klaus (2019)
A story of the MVP of our neighborhood, the postman and his journey to the north where Santa himself hides out. Available on Netflix.
Jack Frost (1998)
A man comes back to life as a snowman in this holiday classic based on the fable of Jack Frost. Available on AMC
A Charlie Brown Christmas (1965)
Join Charlie and the gang for a special Christmas. You can watch on CBS or Apple TV
Nightmare before Christmas (1993)
Jack doesn't want to see Halloween end so he decided to steal Christmas! This is a Halloween and holiday classic for elementary school +. Watch on Disney +.
A Muppet Christmas Carol (1992)
The muppets put their twist on the Dicken's classic. Adding a musical and comedic twist. Check it out on Disney +
Miracle on 34th Street (1994)
Watch the Matilda star find out that the REAL Santa is the one at Macys! Make sure your little ones know, there's a chance Santa is in NY! Watch on Amazon, Youtube or Google!
The Year without Santa Clause (2006)
Santa thinks kids have become too greedy and he decided to take the year off! Will Christmas be canceled? You'll have to tune in to find out! Watch it on Netflix!
These Top 20 Christmas Movies Bring the Spirit to Long Island Families So no matter how Christmas looks this year, you can always grab a snack, your kids and your favorite blanket and cuddle up for a classic holiday movie!