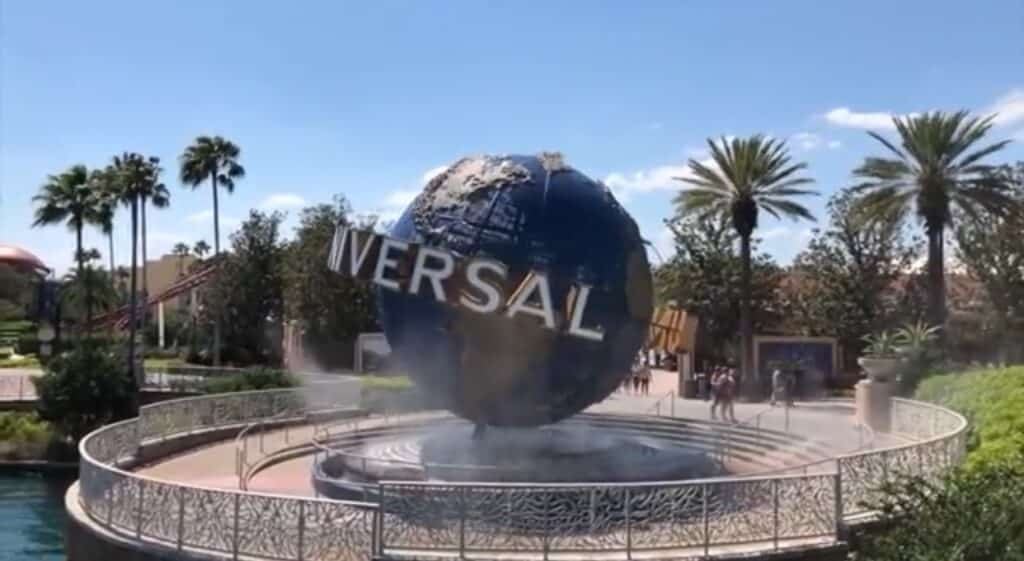 Get ready for adventure! This week, we're heading back to sunny Florida for more virtual tours! This week we're going to Universal Orlando Resort! Have you always wanted to be in the movies? Well, buckle up, because we're heading up close and personal with some of your favorites! Never been to the park? Get started with this complete walking tour of the grounds!
3D or 4D Rides Bring the Adventure to You
All set and ready for adventure? Let's hit some rides! All the rides at universal bring you into the world of your favorites via 3D or 4D. So get your at home 3D glasses ready! The adventure starts with this craft! You'll need to prepare for what you're going to see by making your glasses! We have some other activities planned along the way too! This trip will keep you engaged and active for a full day of family fun!
The Wizarding World of Harry Potter. Transport to London wizards and muggles! Grab your cloak and your wand, we're heading to Diagon Alley. Don't have a cloak and wand? Here's a tutorial to create them! What house will you claim? Once you're dressed you'll be ready to cast some spells. Hop on the Hogwarts Express … buckle up and get ready for some magic! Walk through the wall … here we go! Don't forget your butterbeer!
Despicable Me Minion Mayhem. Are you ready to become a minion? It's time to enter their world and meet Gru and the crew! You're about to take a crash course in minion training. Oh, and don't worry, Gru is just going to turn you into a minion! Buckle up as things go terribly wrong and you're launched into a wild adventure. Don't forget your goggles! (3d glasses)
ET Adventure. FYI this ride is in the dark. And can be a little scary due to the space aspects. You'll hop on a bicycle and ride along this mystical adventure with ET. Make sure you're wearing your space gear because you'll be leaving planet Earth! Flying over the moon and into the galaxies to help ET save his home planet! Are you ready? Do you accept this mission?
Shrek 4D. Head on down to the swamp and visit your favorite Ogre and his friends! Sit back, relax and enjoy the show. This is a great time to grab a snack or take a relaxing break. What do Ogres eat anyway? Here are some Shrek approved snacks you can cook with your kids! But make sure your imagination is ready, you'll need to imagine all 5 of your senses are engaged and ready for adventure. As this ride is normally 4D and you can see and feel everything they do!
Transformers the ride. Are you ready for a thrill ride? You've been recruited to join Optimus Prime and Bumblebee in an "intergalactic showdown". Off you go to fight the Decepticons. The transformers are here to keep our planet safe from destruction! Help them in their mission in this action-packed adventure! Once you complete your training, you'll be right in the middle of this battle. As if you were inside of a video game! (Don't forget your 3d glasses)
Woody Woodpecker. All aboard! Jump on in and ride along through the roller coaster world of Woody's "Nuthouse" this kiddie coaster has its share of twist and turns. Just as if you were that crazy Woodpecker himself flying though the sky! After you jump off the crazy coaster, relax and enjoy Woody's kid zone on a walking tour. You may even see some of your other cartoon friends. This is a great chance to play Eye Spy or create a scavenger hunt game!
Check Out These Fun Experiences
Barney. An experience for the littlest traveler. Jump into Barney's imaginary world of song and dance. Barney and the gang will lead your preschooler through an imaginary dino adventure. Get ready to sing and bring your smiles!
Cinematic Celebration. Looking for a sensory overload experience?  This is your one stop shop. This amazing show combines light, music and water for a cinema experience unlike any you've seen before. "A wonderful mishmash of movie clips, props, creature make-up demonstrations and behind-the-scenes how-tos", this experience turns everyone into a Hollywood professional.
Superstar Parade. Just like in Disney World, you never know who you'll see walking down the street. This character parade gives your family the chance to sing and dance with some of their cartoon and movie favorites. Warm up your voice and get in your stretches; its time to get moving.
A Virtual Visit to Universal Orlando Resort is Fun for the Whole Family
So if you're ready for a day of adventure, buckle up! Universal Orlando Resort in jam packed with fun for the whole family. Did your family favorite not make the cut? Task each member of your family with creating a game for your favorite! Pop some popcorn and watch one more movie. The adventures and thrills are endless.