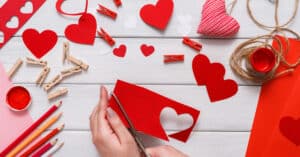 Valentine's Day means many different things. For some, it's a day to find true love or simply go out on a fancy date. But if you have kids, it can be a day of fun classes and learning. If your child loves crafts, there are opportunities to make their own valentine decorations and other items. It's also a day about sweets, and we don't just mean sweethearts. From chocolate to fancy desserts decorated in red, kids love to make stuff that will keep their sweet tooth happy and enhance their talents. Your Local Kids wants to let you know where your creative child can find Valentine's Day classes crafts, decorations and desserts in 2017.
Long Island Children's Museum 1 Davis Ave, Garden City, NY 11530 (516) 224-5800
There's a lot going on at this popular Garden City museum that's devoted to hands on exhibits that make learning fun. If your child is into crafts, LICM is giving children ages 3 and up the chance to create "Happy Heart Wreaths" throughout February. Kids will make the wreaths out of colorful tissue paper. The craft comes free with your admission.
Also at the museum is a Valentine's Day "Kids in the Kitchen" class for children ages 3 to 5. On February 10, kids will learn how to make a heart shaped strawberry and cream pastry while using real cooking tools.
Bayport-Blue Point Public Library 203 Blue Point Avenue Blue Point, NY 11715 (631) 363-6133
This Suffolk County library is running a couple of children's programs as we approach cupid's favorite day!  There will be a Valentine's Day Workshop on Friday, February 10 from 4 p.m. to 5 p.m. It will include games and activities for up to 25 children. On Valentine's Day itself, there will be a "Valentine's Candy Box" class for children 18 months through 5 years. The class will enhance your child's music and movement development and will help develop fine and gross motor skills.
Maritime Explorium 101 East Broadway Port Jefferson, NY 11777 (631) 331-3277
Maritime Explorium is a nautical museum that focuses on children ages 2 to 12 with exhibits dedicated to sea life and our waterways. For Valentine's Day, they will host a craft that will allow kids to send valentine "messages in a bottle." Kids will be able to design their own nautical bottles on Saturday, February 11 and Sunday February 12 from 1 p.m. to 5 p.m.
The Well Seasoned Chef  45 New Hyde Park Road Garden City, NY 11530 (516) 488-1008
They hold culinary classes for both kids and adults at this Garden City business and there will be a fun workshop for kids just in time for Valentine's Day. On February 9 from 4 to 5:30 p.m. kids will make and decorate their own Valentine cupcake which they get to bring home. Children will also make homemade ice cream and personal pizzas. The cost for the class is $5 per child.
The Smithtown Library-Nesconset Branch 148 Smithtown Boulevard Nesconset, NY 11767 (631) 360-2480
The library will host the "Tiny Tot Valentine's Ball" on Tuesday February 14 from 3 p.m. to 3:45 p.m.  This program for children ages 2 to 5 and their caregivers includes crafts, games, singing and dancing. It's a chance to create and bond with your tot!
However you spend your Valentine's Day, we hope it's filled with love and fun. If you're looking for activities, classes or just an exiting day out, you can find all the resources you need with Your Local Kids.