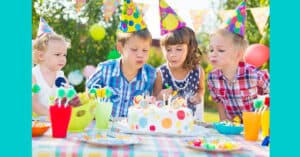 Summer is quickly approaching and Long Island Families are beginning to plan their outdoor parties. It is important to come up with a theme and we have narrowed it down to 3 super fun party ideas for you to consider.  Party entertainment is extremely important. It ensures that your guests have a great time and that they will remember the event for a long time to come. Your Local Kids is a one stop place to help the busy parents gather ideas, and find resources for their children's' entertainment.
Three Themes For Outdoor Parties This Summer
Idea 1: Circus and Carnival 
Keeping children entertained while keeping them active is important for any outdoor party. Bring the circus to your home with a carnival or circus themed party in your yard! From set up to food, bring the big top to life very easily.  You can choose from a number of carnival games not limited to: dunk tank, skee ball, potty toss and high striker. Carnival food vendors like cotton candy machines, hot pretzel machines, sno cone machines, popcorn machines, vintage hot dog carts, will all fill the bellies of your guests, children and adults alike. According to Marthastewart.com, there are many ways to utilize your home and yard resources to accommodate a circus and carnival themed party.
Idea 2: Obstacle Course
A fun and exciting way for kids to enjoy an outdoor party is by interacting with their friends racing in an obstacle course.  There is a variety of inflatable obstacle courses available to suit your party needs.  Inflatable obstacle courses come in many shapes, sizes and themes.  You can rent Tropical Obstacle, Bug Obstacle, Adrenaline Rush, and more!  There are health benefits to competitive play too; according to Po Bronson of Top Dog: The Science of Winning and Losing, states that competition is healthy and important for kids.
Idea 3: Animals
Animal themed parties are growing in popularity and there are some fantastic ideas out there.  Party rental companies make it easy to bring the zoo to your own backyard.  You can rent ponies for pony rides; typical of most pony party companies they come with two ponies and a petting zoo.  Kids can have fun petting and feeding all kinds of animals; goats, pigs chickens and rabbits with portable petting zoos.
For a detailed list of kids' party rentals, visit our page to find the best in party rentals on Long Island.  We provide you with ideas, resources and vendors available in both Nassau and Suffolk counties.  Stay up to date on  party ideas for kids by following our blog.