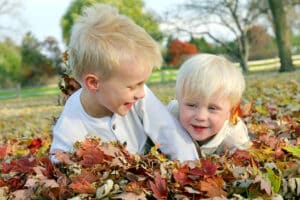 Autumn is here on Long Island, and many families are eager to get outside and enjoy the cooler and more comfortable temperatures. Your Local Kids has five great ideas for seasonal activities that the whole family can enjoy together.
Explore a Nature Trail
It's a beautiful time of year to take a hike on a Nassau County or Suffolk County nature trail. The New York State Parks, Recreation and Historic Preservation website has a directory of state parks across Long Island that offer hiking and scenic trails to explore. There are many other beautiful local town parks, if you don't feel like going too far from home. Take note of the changing leaves, different birds and insects, and all the sights autumn has to offer!
Visit a Farmer's Market
The sun is bright, the air is crisp, and there are plenty of fresh, locally grown fruits and vegetables at your local Farmer's market. If you're unsure of where to find an outdoor market or farm stand, check the Long Island Farm Bureau's website for one in your area.
Enjoy the Leaves!
Even just the smell of crisp autumn leaves is sure to bring back fond memories from childhood. Gather up some leaves with your kids and build a nice leaf pile to jump in. Choose your favorite ones and make crayon rubbings on tracing paper, or trace the outline. Get creative and see how many crafts you can create using just leaves and the supplies you have at home.
Head to a Haunted House
There are plenty of Halloween-themed houses across Long Island for safe and entertaining scares. Many pumpkin farms also have haunted houses, hayrides, or corn mazes. Be sure to call beforehand to verify the hours of operation, and inquire about earlier show times for younger kids.
Go Pumpkin Picking
A fun activity for family members of all ages, pumpkin picking is a perfect activity for fall. Your Local Kids has a full directory of farms that offer the best pumpkin picking across Long Island. What's your favorite farm to visit in autumn? Leave a comment to let us know.
For the latest family-friendly activities and events on Long Island, be sure to bookmark our events calendar and follow us on Facebook!