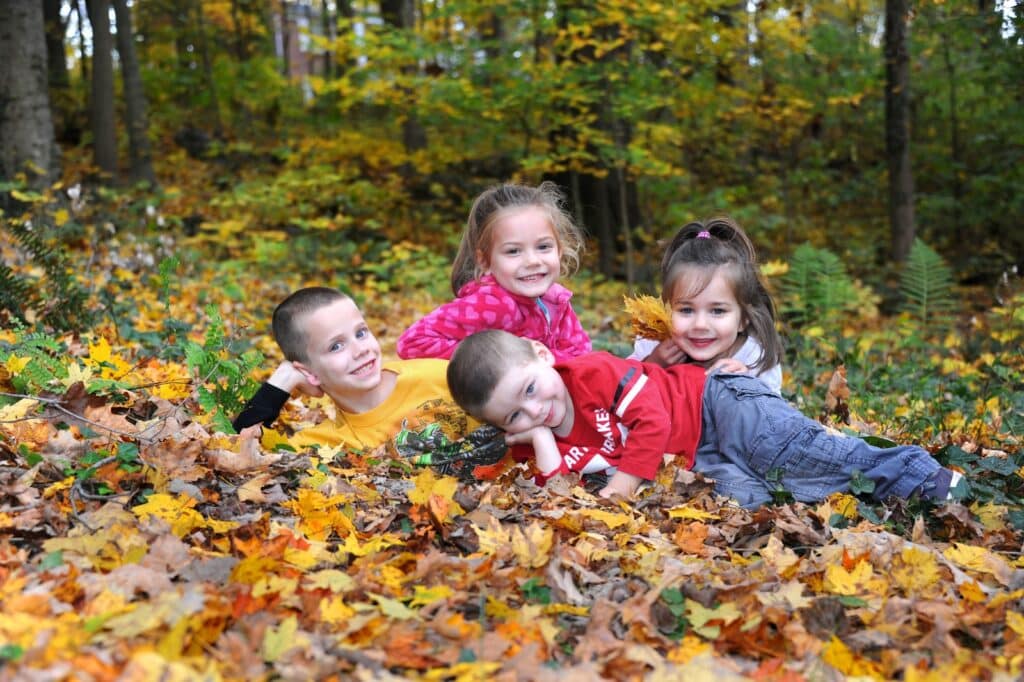 As the cooler weather approaches, many families may be wondering what they can do to keep busy. Just because it's cold out doesn't mean that the fun has to stop. In fact, cooler temperatures can be perfect for some really "chill" family activities!
#1. Have a Leaf Raking Contest
Raking leaves doesn't have to be a mundane chore. Let the kids have some fun and burn off some energy by making it into a tournament. Of course, there's nothing more fun for kids than jumping into a pile of leaves (as long as they rake them up again). Offer a prize at the end to the team with the most leaves.
#2. Stretch. Breathe. Exercise
No matter what season it is, or where you are, it's important to remember to take some time to put your health first. Include the whole family in exercise time by practicing stretching and teaching breathing techniques. The knowledge of exercises, and seeing a parent or loved one do it, has been proven to lead to a healthier lifestyle in children, which in turn, means healthier adults. Check out YouTube for some free family friendly workouts!
#3. Have a Family at Home Spa Day
Since we just mentioned exercise and physical health above, it's important to maintain relaxation and mental health. Have a moment at home to put on relaxing music, make or buy some face masks, slice some cucumbers, and have a healthy snack or de-puff eyes. This is a perfect opportunity to teach younger children the importance of self love, self care and hygiene. Check out Pinterest for some inspiration!
#4. Family Game Night
Board games and video games alike can be a wonderful source of entertainment for the whole family. These days there are more options in multiplayer and age appropriate games.
#5. Cook Together
Is there a secret family recipe that never fails? Or perhaps there's a dish you love, but haven't learned how to make it? Cooking and baking are wonderful ways to teach the little ones kitchen etiquette. OF course, the best part is the tasty reward after!
#6. Build an Outside Hot Cocoa Bar
What is better to go with your fresh baked cookies than a nice hot cup of cocoa? Is it a snowy day? Even better! Build a hot cocoa bar, then with your tasty drinks and freshly made snacks in hand, enjoy the time together. Sit back, relax, sip and enjoy the sounds of nature around you.
Did you know that some farms are open to the public even after the winter arrives? Fresh eggs, milk, butter, cheese, pickled products, and fresh meat are some of the things you can find. You may also find a selection of baked goods made with farm fresh ingredients. Not to mention, the animals during the winter would probably be very happy to see a warm smile.
Family Fun Doesn't End Just Because the Temperature Drops
Just because it's cooler out, doesn't mean the fun has to stop. And whichever of the seven ideas above you decide to do with your family as the weather cools, may it bring love and joy to your heart. Stay safe and well. And check back often for more updates and ideas.