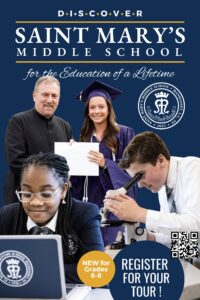 OPEN HOUSE THIS SUNDAY, SEPT. 24
2:00-4:30 PM
St. Mary's, Manhasset now offers an entire program and facility created and designed for Grades 6 through 8 students.
Tours of the dedicated Middle School building will be offered by appointment during the Open House on 9/24. If you cannot attend, please contact the Office of Admissions at 516-627-2711 ext 1084 or email Mrs. Norma Stafford to schedule a future appointment.
We look forward to meeting you!
For Details & Tour Registration Click Here
|||::
1300 Northern Boulevard, Manhasset, NY 11030