Bungee Runs
Ask about our DJ's, Clowns, Puppet Shows, and Magic Acts with SPECTACULAR Illusions! We also have Carnival Games!
Fairy Tale Productions, Inc. is a family-owned full-service entertainment company since 1990. We specialize in corporate and private events for children and adults and are dedicated to surpassing your needs and expectations. At Fairy Tale Productions, we bring the highest level of enthusiasm and professionalism to every event.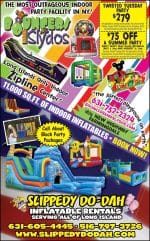 Slippedy Do Dah Is Long Island's choice for inflatable rentals. Whether you are having a birthday party, block party or anything in between Slippedy Do Dah is the place for all your amusement needs.