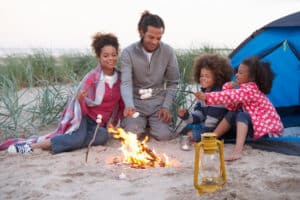 With all of the electronics marketed towards children today, it's no wonder that the younger generation seems to have lost interest in many of the summertime activities we enjoyed throughout history. At Your Local Kids, we believe it's important to take the time to disconnect and enjoy quality time as a family. This article explores some old-fashioned activities that you and your children can do together.
Spend a Night or Two Camping
There are plenty of great parks and beaches across Long Island offering family-friendly camp sites, but you really don't need to go far to have an adventure! You can camp right in the comfort of your own backyard if you plan for it! Set up a tent or build your own. Bring out some sleeping bags and lanterns. At nightfall, set up a campfire and roast some s'mores, take turns telling scary stories, or catch fireflies (being sure to let them go, of course!). You can play a game of flashlight tag, search for constellations in the night sky, or just lay in the tent listening to the sounds of summer.
It's easy to forget how warm it is outside if you're inside with the air conditioner blaring. Shut off the A/C, throw on a bathing suit, and beat the heat together as a family. Even something as simple as running through the sprinkler or spraying one another with squirt guns can be a blast if it's done together as a family. For an added challenge, fill up water balloons and have a toss, or check out some of Your Local Kids' ideas for other fun water activities.
There are a ton of benefits to playing sports. They encourage teamwork, patience, and promote an active and healthy lifestyle. Softball, kickball, soccer and volleyball are just some activities that can be played in a group. For one-on-one time, or with a smaller family, try simply playing a game of catch or monkey-in-the-middle. If there's something specific your children are interested in trying, or a game they've learned in school – encourage them to teach it to you!
For more great things to do on Long Island with kids, keep an eye on our event calendar, and check back for more informative articles in our blog.