Suffolk County Orthodontists from Your Local Kids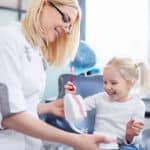 Did you know that having braces isn't necessarily all about cosmetics and having a good smile? In fact, biting, chewing, even speaking can become more efficient when you have properly aligned teeth! Also, straight teeth are easier to clean and floss, this way your kids will have proper oral hygiene for years to come.  Your Local Kids has put together a list of some of the best orthodontists in Suffolk County, so you can find an orthodontist that is the perfect fit for your child.
Find Orthodontists in Suffolk County
Whether you are looking for traditional metal braces as well as Invisalign®, our list of orthodontists provide a variety of general and cosmetic dental service. It's never a bad time to introduce good oral hygiene to you kids but the recommended age to bring your children to the orthodontist is age seven.  so The orthodontist can do a full evaluation and come up with a plan for future appliances.
Your Local Kids has been a trusted parent resource for Long Islanders for many different services including family friendly businesses, the best summer camps, and top quality education and enrichment programs. They are also known for having the best birthday party guide including the best venues and facilities to throw your party and the best entertainment for kids!
For more information and to search through our entire directory of vendors click here.