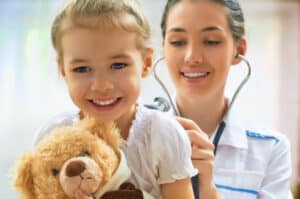 When your child has the sniffles, a store throat, a persistent cough or even a tummy ache you should bring them to a pediatrician. A pediatrician is a physician that specializes in the care of infants, children, teens and young adults up to age 21. Where do you go to find a reliable pediatrician if you don't have one? Consider looking through Your Local Kid's list of pediatricians in Suffolk County.
Find Pediatricians in Suffolk County
Is your child up to date on their mandatory vaccinations? Do they need a physical for school or camp? Our list of pediatricians have state of the art facilities, access to lab testing, electronic prescriptions and are all Board Certified.
Your Local Kids has been a trusted source for families on Long Island for all things party related, high quality education and enrichment programs, family friendly businesses as well as the best summer camps!
For more information and to search through our entire directory of vendors click here.