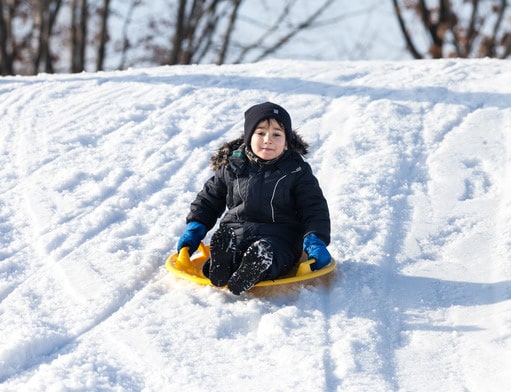 Safe Sledding with Kids on Long Island
When planning things to do on Long Island with kids, one of the most enjoyable winter activities is sledding. Here are some tips from Your Local Kids to help you and your family get the most out of your next snow day.
Before braving the cold, be sure to make sure your children are dressed appropriately. Invest in a good pair of snow boots. For younger kids, it is a good idea to choose boots with a Velcro-closure, as it is easier for them to manage, and helps avoids the risk of tripping over laces. Be sure they are dressed in layers; and purchase a pair of waterproof ski pants – assuring your children wear thermals or sweat pants beneath them. Choose a good pair of warm socks, waterproof gloves, and a hat; and have your kids wear a sweatshirt underneath their jacket. If your child chooses to wear a scarf, assure it is tied up tightly beneath the jacket, as a loose scarf can easily get hooked on something. The American Academy of Orthopaedic Surgeons recommends a ski helmet to prevent possible head injuries while sledding.
A savvy child is willing to fashion nearly any item into a sled, but it is important to select a sled that is safe and age-appropriate. Invest in a sleigh that offers a way for your child to steer, and avoid purchasing disc-style sleds for younger children; as they offer no way to control the direction or speed of travel. Assure that the sled has runners, to avoid it going airborne; and make sure it is constructed of a heavy material that would not easily be pierced. Avoid inflatable tubes or any item not clearly labeled for use in the snow.
Tip #3: Select a Sledding Spot
Many public parks, golf courses, and schoolyards across Long Island can make for great sledding conditions; but be sure to scope out the area before permitting your child to sled. Assure that the area is free from debris such as rocks and sticks; and avoid choosing a location too close to trees, fences, or other structures. Check the ground to make sure there are no frozen spots, and avoid any hill too close to any body of water. A general rule of thumb is to go out earlier in the day, and as close to the snowfall as possible. Never sled at night, and avoid locations where the snow seems worn-out by other sleigh riders. Never permit your child to sled near any parkways, underpasses, or sumps; and avoid any hill that is too steep — assuring there is a long enough landing at the end for the sled to come to a complete stop.
Always remind your child to come inside when they're getting too cold, and to change out of wet clothes immediately. For other activities to share with your child, check out some of our winter trip ideas, and stay up to date with our blog.