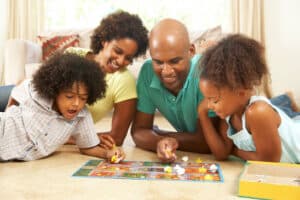 Starting a Family Fun Night
There are endless things to do on Long Island with kids, but it's also important to have quality family time at home. Whether you are staying in from the inclement weather, or just want to spend a few hours bonding, a family fun night is always a good idea. Your Local Kids has a list of great ideas you can implement in your home.
Beginning a family fun night in your home is easy, and is a good habit that children can carry into their adult years. Select a night of the week that works for every member of your family, and request that everyone avoids making plans during that time. Suggest that everyone with a cellphone has it powered off and put away during your time together, and avoid discussion of anything work-related.
To hold interest in your Family Fun night, encourage alternating weeks so that every member of your family gets a turn in choosing the activity for that week. You can post a chart on the fridge or another central location that lists the activities, or if your family prefers – use a voting system to choose the right project for that week.
Here are some suggestions for weekly activities:
Movie Night: Pretend your den is a movie theater, and arrange it as so. Close the curtains, make some popcorn, and decide on a designated 'start time'. Leave room at the end of the movie to discuss any topics that were addressed and encourage everyone to voice their opinions.
Crafts: Kids love getting crafty — and it's always more fun as a group. Using large sheets of paper or paper rolls, you can create one unifying art piece that your kids will be proud of.
Family Photos: Reflecting on past events your family has shared together is a good way to spark discussion and develop new ideas. If you have a lot of photos, take it a step further and have your kids help assemble an album. Be sure to add captions and dates!
Play Games: YLK has some great ideas for educational games to play with your children, and you can always grab a favorite board game that's age appropriate. If you're feeling crafty, spend one Family Fun Night creating a board game, and the next one playing it. Another idea is to come up with your own game show, using educational questions your child can answer.
Cooking: Host a family dinner! Have everyone choose an item they would like to prepare, and assemble a meal together. Some easy ideas are homemade pizza, salads, or stews. You can role-play to make the night even more exciting by encouraging children to dress up and use their best manners. Be sure to write all of the recipes down, and create a family cookbook of all your successes.
Make Reading Fun: Select a story that everyone can read together, and take turns reading aloud to one another. Another idea is to select an age-appropriate play, and assign each member of your family a role or two to read in character.
Once you decide on a day and time to host your family fun night, the opportunities are endless.