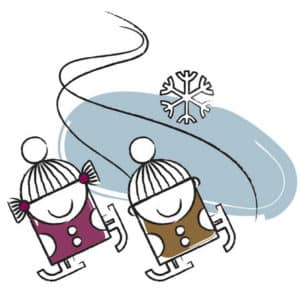 Best Winter Activities for Kids on Long Island
As the weather begins to get colder, it becomes a bit more challenging to find activities that can keep your children active and entertained. Your Local Kids has some suggestions on the Best Winter Activities across Long Island, in both Suffolk County and Nassau County. Always be sure to check Your Local Kids' Family Event Calendar to see if there is a special event occurring near you. Your Local Kids has established a helpful list of some creative ideas for activities in the chilly winter months that you and your children can enjoy together.
Ice Skating: Ice Skating is a great winter workout, and many local parks have public ice skating rinks that the whole family can enjoy. According to CalorieLab.com, just 15 minutes of leisurely Ice Skating can burn 102 calories!
Hiking Trails: Long Island is a beautiful place to go exploring, and few activities offer the excitement and accomplishment that hiking does. For an added challenge, you can compile a list before you go of Scavenger Hunt items to find along the trails. The best part about the off-season is that there is no charge to enter any of the parks or beaches. Pack some lunch and make a day of it!
Botanical Gardens/Arboretums: Exploring the many gardens or arboretums of Long Island can present many educational opportunities for your children. Our climate supports a diverse collection of plants and trees; many of which may not be common in your neighborhood. Children have natural curiosity, and will appreciate getting to spend time with you while exploring nature.
Whatever you do, don't let bad weather limit your fun! Your Local Kids has an extensive list of locations in both Nassau and Suffolk County with Open Play/Walk-In hours. You should also check with your Local Library to see if they have any special events.
If you feel like spending the day at home, you can throw a Craft Party with your kids; using common household items (coffee filters, pasta, old t-shirts, etc.) and encouraging them to stretch their imaginations! For some helpful suggestions on crafts you can do at home, check out our guide to Fun Holiday Craft Projects for Kids. Most importantly, don't be afraid to get in touch with your inner child — you'd be surprised at how rewarding it can be. Even something as simple as making a snowman together can make your child's whole day… and yours!