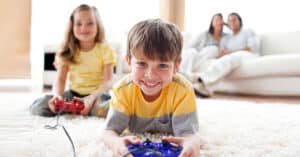 Winter can be a hard time to keep kids active. Unlike the other three seasons, it's harder for kids to take part in outdoor activities.  In warmer weather, Long Island is home to many different beaches, parks and nature preserves, theme parks, public swimming pools – the possibilities are endless!  During winter, the cold and unforgiving weather makes it challenging for kids to stay engaged. While it is certainly not Mom's or Dad's job to provide kiddos with 24/7 entertainment, many parents are still rightfully concerned about keeping kids moving while they're cooped up indoors for months on end.  If you're looking for a solution to this dilemma, you've come to the right place!  Your Local Kids has created a list of ways to help you stop the winter slump!
Stay Active, Get Physical!
Keeping your family physically active keeps them healthy.  According to kidshealth.org, school aged children should be reaching an exercise goal of at least an hour a day.  Check out some of YLK's favorite ways to maintain a healthy level of physical activity when heading outdoors isn't an option:
Video Games – They're not as bad you may think! While video games were once a major cause of the steep decline of physical activity in children, all of the most popular consoles now have extensions that require players to get up off the couch and move!  Nintendo Wii, Xbox Kinect, and PlayStation Move are all great examples of systems that will get you going – not to mention the fun your family will have with a bit of healthy competition!
DIY Indoor Hopscotch – As fun to play with as it is to make! You don't have to go to the playground and clear off snow to play hopscotch. You can make your own game using these DIY instructions from education.com and start playing!
Yoga for Kiddos – If you're like many Long Island parents (and us here at Your Local Kids), you love to practice Yoga! It enhances both physical and mental health. And what better way to bond with your little ones!  YouTube features instructional kid-friendly Yoga video well suited for even the youngest of Yogis!
Crafting, Games, & Other Activities
It is always a good idea to have crafts, games, and activities at the ready for bored children. Here are a few of Your Local Kids' favorite activities that the whole family can get in on:
DIY Playdoh – Your little ones will love everything about this! From helping Mom and Dad cook it on the stove to adding food coloring to creating with it!  Click HERE to see the recipe!
"Supersize" Coloring – All you have to do is pick up a large roll of plain white craft paper, cut a piece approximately 4ft. wide, tape it to a wall with masking tape, and begin creating a work of art! For this activity, we suggest sticking to crayons and colored pencils.  Markers or paints may bleed through the paper and stain the walls.
"Science Experiments" – Crystal Egg Geodes are tons of fun and beautiful to look at once they're finished! YLK's favorite science experiments also include projects using baking soda.  This reactive substance will appeal to all 5 of your child's senses as it bubbles, crackles, and reacts to different things you add to it!
Board Games – Games such as Monopoly and Trouble afford families the irreplaceable opportunity to sit down around a table and bond.
Educational Fun – Long days spent indoors offer a great opportunity for you to engage in educational activities with your kids to supplement what they're learning in school. Education.com has tons of ideas for 'Educational Winter Fun' on their website! Your kids will have so much fun; they won't even know they're learning!
Stick to these suggestions and you'll find that your family will be entertained and moving all winter long!  Don't forget to check out our Events Calendar for even more family friendly things to do year round!