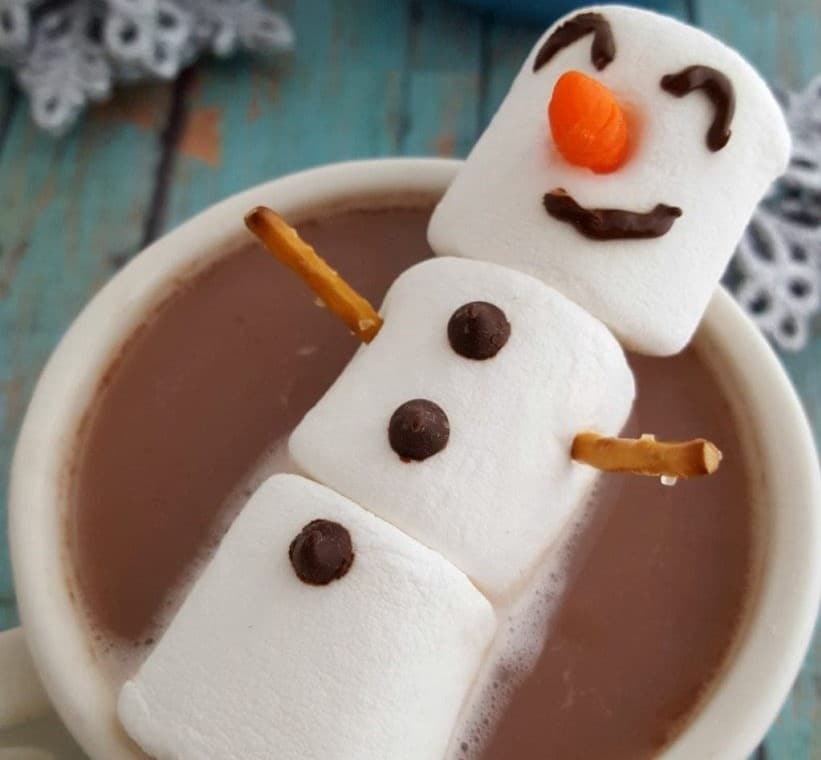 Tis the season to have a jolly appetite! The most magical part of the holiday season are the recipes we share. Here are 11 few kid-friendly recipes to add joy to your holiday season. Try to cook with your kids this holiday season and make some new memories or traditions.
Breakfast is the Most Important Meal of the Day – Especially Around the Holidays
Ingredients:
Vegetable Oil
Wonton wrappers
Chocolate Hazelnut spread (Nutella)
Banana, sliced in rounds to make coins
1 egg, beaten
*Optional: Powdered sugar
Preparation:
In a large sauté pan (or electric skillet), add oil until it is about 1 inch deep. Heat over medium/high heat (between 375 and 400 degrees).
Lay wonton wrapper flat. Add 1 teaspoon of Nutella, and top with a banana coin.
Dip your finger in the egg, and run it along the edges of the wrapper. Fold the wrapper in half to form a triangle. Push down the edges to seal.
Fry each wonton packet in oil, about one minute per side, and drain on a plate lined with paper towel.
Optional: Top with a dusting of powdered sugar.
Serve immediately.
Ingredients:
1 3/4 cups flour (plain or all-purpose)
4 large eggs
2 tablespoons melted butter (or melted coconut oil)
2 cups egg nog
1/4 cup milk
2 tablespoons sugar
pinch of salt
Preparation:
Throw all ingredients into a blender (or magic bullet blender cup) and blend until smooth. Scrape down any flour stuck to the sides of the blender walls, and blend again until lump free.
Heat a good quality nonstick pan, crêpe maker or crêpe pan over medium heat and lightly grease with a small amount of melted butter.
Pour 1/4 cup of the batter onto the pan and quickly swirl the pan so the batter covers the whole inside. (If using crêpe maker, follow package instructions.) Cook for 1 minute, loosen around the edge with a spatula or your fingertips (be careful not to burn yourself), and flip. Cook for a further 45 seconds – 1 minute.
Slide the crepe out of the pan onto a plate and repeat with remaining batter, lightly greasing the pan in between crepes.
Serve with a scoop of No Bake Eggnog Cheesecake and the sugar-coated Mixed Berries.
Have a Fancy Lunch with Santa & His Crew or Spin a Dreidel or 2
Ingredients:
6 c. bread flour, divided
2 T. sugar
2 packages (4½ t.) quick rising active dry yeast (also labeled as rapid rise yeast)
2½ t. salt
2 c. very warm (115 to 125 degrees) water
4 T. melted butter
4 currants or raisins
red food coloring
1 egg
Preparation:
In a large bowl or the bowl of an electric mixer, stir together 4 c. flour, and the sugar, yeast, and salt.
Add the water and butter.
Mix by hand or on low speed for one minute.
Gradually add additional flour ¼ c. at a time until the dough is moist but not sticky.
Knead for about ten minutes by hand or with the dough hook on low to medium speed until the dough is smooth and elastic.
Transfer the dough to a well-oiled bowl and turn it over once to coat with oil.
Cover the bowl loosely with cellophane and let rise in a warm place (75 to 80 degrees) until doubled in volume, 30 to 45 minutes.
Divide the dough in half to make two Santa breads. With one half of the dough, pull off about 1/3 of the dough and set it aside. You will use this dough to make Santa's eyes, mustache, etc.
Shape the main piece of dough into a circle. Pull and stretch the top of the circle out to form Santa's hat.
Take a little piece of dough from the reserved dough, roll it into a little ball, and press it into the top of Santa's hat to form a pompom.
Take three small balls of dough from the reserved dough and roll them into Santa's eyes and nose. Press them onto his face firmly, and press two currants or raisins into his eyes.
Take a small piece of dough from the reserved dough to make Santa's mustache. Shape it into a flat oval and cut slits towards the center on both sides. Pinch the piece in the middle and press it firmly onto Santa's face under his nose.
Take a small piece of dough from the reserved dough to make Santa's hatband. Roll it into a snake the width of your hat and pat it flat. Lay it across Santa's hat and press the ends in.
Take the remaining reserved dough to make Santa's beard. Pat it into a half oval the width of Santa's face. Slice it into strips from the bottom up leaving a ½ "strip uncut at the top. Place the beard on Santa's face and press it in at the edges.
Beat the egg in a small bowl and add a dribble of water to thin it just a bit.
Brush all of Santa's face except his hat and nose with the egg wash.
Mix a generous amount of red food coloring into the remaining egg and brush Santa's hat and nose with it. Give his cheeks a touch, too, to make them rosy.
Allow Santa to rise in a warm place until doubled, about 30 minutes.
While Santa is rising, preheat your oven to 350 degrees.
Bake for 30 minutes, or until he sounds hollow when tapped.
Ingredients:
6 slices of bread
Heart shaped cookie cutter
Peanut butter
Jelly
6 small pretzels knots
6 mini chocolate chips
3 red M&M's
Preparation:
Use heart shaped cookie cutter to cut out six heart shapes from the bread.
Spread peanut butter on three of the heart shapes.
Spread jelly on the remaining three heart shapes.
Stick a slice of peanut butter and a slice of jelly shaped bread together.
Repeat for all pieces of bread.
Place a pretzel on both sides of the top of the heart as antlers.
Add two chocolate chips as eyes.
Add one M&M candy as a nose.
And that's it!
Ingredients:
2 cup frozen hash browns (thawed)
4 small potatoes
1/2 medium onion
2 eggs
1/4 – 1/3 cup matzoh meal
1 tsp salt
1/2 tsp pepper
1 1/4 tsp fresh parsley (1/2 tsp dried)
1 1/4 tsp fresh dill (1/2 tsp dried)
Preparation:
Peel and cut potatoes and boil them.
When they are tender (about 15 minutes), drain them and then put them through ricer or mash them.
Thaw the hash browns in water and then drain in colander.
Chop up the onion and mix with the mashed potatoes and hash browns.
Add the matzoh meal, eggs, spices and herbs.
In a large skillet, heat up 1/4″ vegetable oil and add 2 TB of batter to make the latke.
Fry on each side until golden.
Place on paper towel-lined plate to drain some of the oil.
Serve hot with applesauce or sour cream
Gather the Family In the Kitchen to Help Prep for Dinner
Ingredients:
1 lb of spaghetti (spinach pasta works well)
Green food coloring
Grape tomatoes
Yellow bell pepper
Slice of yellow cheese I cut a chunk for a block of yellow cheddar
String cheese
Grated cheese
Preparation:
Boil spaghetti until just barely al dente before draining and running under cool water.
Drain well and toss into a zip top bag with about 20 drops of green food coloring diluted in about a teaspoon of water before shaking until the color is fully dispersed.
If using, add pesto.
Scoop onto a plate and arrange in a large triangle shape.
Add a rectangle of cheese as a trunk, and position halved tomatoes throughout your tree as ornaments.
Slice a cheese stick into thin lengths and adorn tree as garland.
Cut a chunk of bell pepper with a star cookie cutter and add on top of the tree.
Sprinkle with grated Parmesan as snow.
Ingredients:
Medium Yellow/Yukon Gold potatoes – about 1 per person (10 used in this recipe)
Limes – 3 large
Peruvian Aji Amarillo chile paste – If you can't find it easily, use any mild yellow/orange chile
Salt & Pepper to taste
2-3 Tablespoons vegetable oil
Preparation:
Boil potatoes, peel and mash. When the potatoes cool down enough to touch, get your best tool out – your hands – and take out any lumps. Add oil little by little while mixing by hand so the potatoes are not too sticky.
Add juice from one lime at a time, and taste to make sure there's enough lime flavor. Don't let the mashed potatoes get too thin else you won't be able to shape them.
Add a little bit of chile paste – this is just for slight flavor and color. The dish is not supposed to be spicy. I couldn't get to a Peruvian store so I used 1 regular yellow chile ground to paste.
Season with salt & fresh cracked pepper to taste.
To make the snowmen, roll the mashed potatoes into small balls in two sizes, one smaller than the other. Stack the small ones on top of big ones and poke a toothpick through them. For the eyes and nose, you can use a variety of things. I chopped olives finely for eyes and red bell pepper for nose. You can also use carrots. Decorate the snowmen however you want.
Ingredients:
3 heads of Romanesco (these guys were about the size of a large grapefruit), stalks trimmed so they stand straight and outer leaves removed
1 cup fresh cranberries
1/2 cup pine nuts
1/2 cup feta, crumbled
1/4 cup balsamic glaze, or to taste
Salt and pepper, to taste
Preparation:
Preheat oven to 375F. Place whole Romanesco on a baking sheet and spray with cooking oil spray (I used avocado oil spray) and season with salt and pepper. Roast for 35-45 minutes or until softened and beginning to brown. When the Romanesco is about 10-15 minutes from being done, add the cranberries to the same baking sheet and roast them until they soften and some start to burst (10-15 minutes).
While Romanesco is roasting, toast the pine nuts. Heat a small frying pan over medium heat. Do not add oil. Add pine nuts and cook, tossing occasionally until evenly browned (watch closely so they don't burn!). Set aside.
Remove the Romanesco from the oven and place onto a platter. Spoon roasted cranberries and toasted pine nuts over top, sprinkle with feta and drizzle with balsamic glaze. Add extra salt and pepper, if desired.
Enjoy Sweet Desserts with the Family
Ingredients:
Large Puff Marshmallows (3 per snowman)
Thin Pretzel Sticks
Candy Corn
Mini Chocolate Chips
Toothpicks
Also needed: Hot chocolate
Preparation:
Lay three marshmallows in a row. Take the middle marshmallow and run a toothpick through the center leaving most of it exposed. Take a second toothpick and run it through the center of the opposite side of that same marshmallow – again leaving most of it exposed. Push marshmallows through the top toothpick and the bottom toothpick to connect the three.
Break a thin pretzel stick in half and press the rough-edged sides through each side of the center marshmallow for the snowman's arms.
Divide the candy corn by cutting the different color sections apart with a knife or scissors. Take the orange section and rub it through your fingers to shape it into a carrot for the snowman's nose.
Heat up a small plate in the microwave for 1-2 minutes. Take three mini chocolate chips, and one-by-one, simply hold them by the point and press them on the hot plate for 1-2 seconds so the bottom gets slightly melted. Press them down the center of the snowman for his buttons.
Take a tablespoon of the chocolate chips and melt them in a small bowl in the microwave. Spoon the melted chocolate into one corner of a small sandwich bag. Snip off a tiny edge of the bag and pipe on the snowman's eyes and mouth.
Prepare your hot cocoa and gently lay the snowman on top, and enjoy!
Tip: Prepare all of the snowmen first, and then place on the hot cocoa right before serving – they will start to melt slowly once they're placed in the cup.
Ingredients:
About 20-24 Oreo Cookies
1 pkg Vanilla CandiQuik
20-24 Miniature Reese's PB Cups
Assorted candies/sprinkles (miniature M&M's, Reese's Pieces, holiday sprinkles, frosting, chocolate, etc)
Preparation:
Melt the CandiQuik according to package directions, until smooth and melted. Dip each Oreo cookie into the CandiQuik using a fork, allowing excess chocolate to drip off. Place the coated Oreo onto a foil-lined baking sheet.
Immediately attach a miniature PB Cup on the top of the Oreo for the ornament topper. Then immediately decorate the Oreos with the assorted candies or sprinkles. Consider making striped, polka dot or chevron patterns, or any other pattern or arrangement you'd like!
Allow the Oreos to set before serving or packaging.
Kwanza Treats
Ingredients:
3 tablespoons butter or margarine
1 package (10 oz., about 40) JET-PUFFED Marshmallows
OR 5.5 cups JET-PUFFED Miniature Marshmallows
6 cups Kellogg's Rice Krispies cereal
Canned frosting
Assorted candies
Preparation:
In large saucepan melt butter over low heat. Add marshmallows and stir until completely melted. Remove from heat.
Add KELLOGG'S RICE KRISPIES cereal. Stir until well coated.
Using buttered spatula or wax paper evenly press mixture into 15 x 10 x 1-inch pan coated with cooking spray. Cool slightly. Using cookie cutters coated with cooking spray or stencils cut from sturdy cardboard, cut into Kwanzaa-inspired shapes. Decorate with frosting and/or candies. Best if served the same day.
Kid-Friendly Recipes Bring the Whole Family Together at the Holidays
These kid-friendly recipes are sure to bring your whole family together for delicious fun that will add joy to your whole holiday season.
If you found this article help full, you might also enjoy Top 20 Christmas Movies and Holiday Break Activities
Your Local Kids.com helps busy Long Island parents find what they need fast! Check out our Family Events Calendar for things to do on Long Island with your kids. Planning a party? Check out our party resource guide. Starting to research camps? Our summer camp guide is a great place to start.