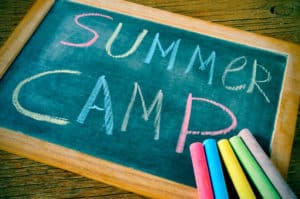 Summer camp is a "vital component in the development and education of the whole child," helping them to make friends, gain new experiences, learn something new and build self esteem.
Many parents might agree with that assessment by the American Camp Association, feeling summer camp would be a great idea for their children.
However, while many parents might feel summer camp isn't financially feasible, it's actually more affordable than parents might think – especially if they start their search early to get the best deals on summer camps on Long Island.
To help parents with their search, Your Local Kids has compiled some tips to help you find the right camp at the right price in Nassau County and Suffolk County for their children. In addition, parents can look at Your Local Kids' Long Island Summer Camp 2018 Guide to find a wide range of camps in Nassau and Suffolk counties.
The Guide has options for everything from half-day and day camps to full-day, sleep-away and special-needs camps. It also has a variety of specialty camps, including academic, acting, art, sports, music, martial arts, cooking, chess and dance.
Plus, according to ACA, there's a camp for every child and budget, and it advises parents to not be shy about asking any camp they consider for their child about what type of financial assistance is available.
For instance, many camps offer special discounts – for everything from early registration, full-season or multiple enrollments from one family – while many other camps might offer partial or total scholarships and financial aid. Still others might offer sliding fee scales and payment plans. And some might even barter, if a parent has a skill the camp needs.
Shorter programs – a three-week versus a seven-week program – might also be an option at some camps.
There are also some PTAs that help raise money throughout the year to help send students in need to camp. Additionally, parents can check out summer camps and programs offered by local non-profit organizations and schools, as well as local towns and villages, since many of them tend to be free or inexpensive.
Aside from cost, parents also need to narrow the search by the type and activity. Here are some tips to help parents decide:
Above all make sure your child is ready for the camp experience. To gauge your child's readiness, ACA recommends camp if your child is age seven or older, has had positive overnight experiences away from home and needs little persuasion from parents. Parents should be sure to review expectations and concerns to prepare them for camp, and try day camp before sleep-away camp.
Determine what your child's interests are and gear your search toward camps that would interest them. Remember, just because another parent's child enjoyed a particular camp, doesn't mean your child will enjoy it. So it's important to talk to camp directors, other parents and, most of all, your own children to get a sense of the types of activities that are offered and preferred.
Decide on day camp or overnight. This is key. Also remember day camp is a great way to ease younger children into the camp experience.
Decide on a general or specialty camp. For instance, a general day camp offers a range of activities, from sports to crafting, but a specialty camp might work better if your child is focused on one particular activity, such as band or cheerleading.
Do your research and meet with the camp staff. Start by contacting other trusted parents, meeting with camp directors, getting references and watching videos. And be sure to take your child to visit the camp and staff to gauge their reaction.