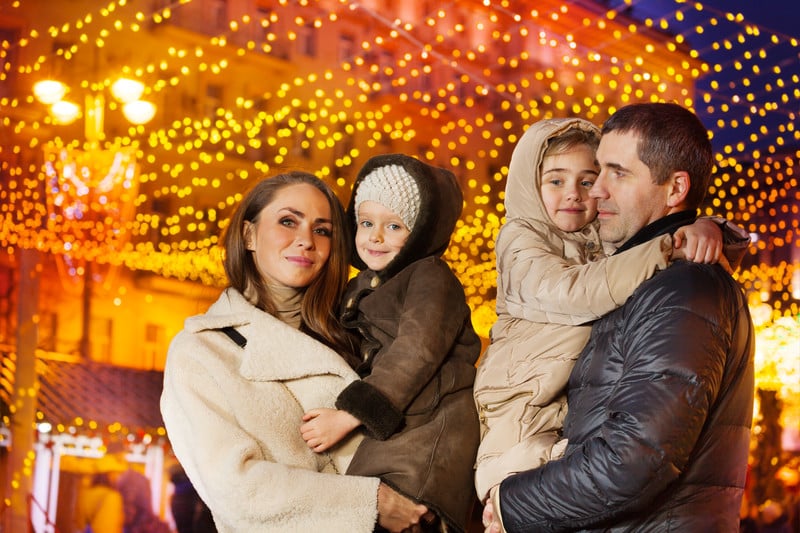 The holiday season is one of the few times of year when you have your whole family together for several days.
A great way to enjoy the moment and create memories that will last is to share activities at home or within walking distance of where you live.
The following list of suggestions enable you to do make this holiday season one for the books – your family photo scrapbook that is.
#1. Make Gingerbread Houses with the Whole Family
Gingerbread houses are one of the best holiday family activities you can do with your kids. Skip the pre-fab houses from the supermarket and make your own gingerbread.
#2. Go on a Holiday Lights Tour as a Family Activity
Put down your electronic devices and be fully present as you walk or drive to the best-lit houses in your neighborhood and let everyone decide which houses are their favorites. Make your trip extra cozy with a thermos of hot chocolate and some holiday cookies. Enjoy the moment: you'll make memories that will last a lifetime.
#3. Make a Pinecone Bird Feeder Together
This is a kid-favorite. Let your child hunt for a pinecones, or better yet, go hunting with them. Then, bring them home and slather them it in peanut butter and roll in birdseed. Hang from a tree or bird feeder near a window and watch for delighted birds or squirrels. You and your children can make these over time and enjoy the spectacle all winter.
#4. Decorate Your Front Door (or Your Child's) Like a Present
Decorate your front door, or better yet, your child's bedroom door like a present with wrapping paper from the dollar store. Add a a ribbon or bow to transform your doors into giant gifts. Break out the glitter, markers, stickers, etc.!
#5. Host a Family Holiday Movie Night
The movies you watch with your children will become traditions when they share them with their own children. Gather round with a bowl of popcorn or whatever their favorite treat is, select your favorite holiday movies and enjoy a night that's sure to please the whole family and make memories that will last for generations. If you are looking for a Christmas movie for the family to watch, check out this list of Top 20 Christmas Movies.
#6. Make and Hang Popcorn and Cranberry Garland
Popcorn garlands are a fantastically fun family activity for older children, as well as an inexpensive tree decoration. Use cranberries to add some color to your popcorn garlands and ask your kids to help you drape the tree.
#7. Make Homemade Crafts
Crafts can easily be turned into fun holiday activities that also cultivate gratitude. Cut and glue strips of brightly colored paper to create a paper chain to hang indoors. On each "link" in the chain, encourage your children to write something for which they are are grateful.
#8. Go Caroling with the Whole Family
Music transforms our mindset in just a few seconds – and those who cannot easily get out of the house love to have visitors bring them a bit of holiday cheer. Ask your kids what carols they've learned and print out the lyrics for a few songs before heading to your local hospital or nursing home. You'll bring joy to many hearts and stay warm inside at the same time!
#9. Attend a Holiday Production
If you know a young person in elementary or high school, chances are they will have a holiday performance. Support them, and their school, by attending. This is also an excellent way to express your gratitude to teachers and even friends who are involved in theater or performance groups.
#10. Make Holiday Ornaments with the Whole Family
Make your own holiday ornaments and create sweet memories you can pull out year after year. The cost is minimal but the memories last forever. Bake gingerbread men and punch a small hole in the top before you bake. When they're done cooking, tie a ribbon through the hole to hang it on the tree. Or create ornaments out of cinnamon sticks, popsicle sticks or fruit.
#11. Donate Gently Used Toys to the Less Fortunate to Teach Your Children Empathy
The holidays are a great opportunity to instill empathy and caring in your children. Before the kids get new toys, have them go through their playthings and pick out a few gently-used items to give to a child who could use the comfort of a new toy. Gather up the selected toys and donate them to a women's and children's shelter.
#12. Make Paper Snowflakes
Paper, scissors and some strategic cuts and folds are all that are required to create beautiful creations that could grace your windows and / or walls. Make them into a chain and bring them to friends and family as an affordable, personalized gift.
#13. Make Holiday Cookies and Treats for Others
There may be other people outside your family who would love the kindness of home-baked goodies. Consider treats that are traditional delights and share them with those who may not have family nearby or have to work over the holidays. Check out this list of Kid-Friendly Holiday Recipes for some ideas.
#14. Host a Family Game Night
If you've got an older group of kids, then gather round the table or fire place and have a Holiday Game Night. Checkout this list of Top 10 Family Board Games.
#15. Write Letters to Santa Together
If your little ones believe in Santa Claus, have them practice their letter-writing skills with a letter to the North Pole. With the Greetings from the North Pole Post Office program, you can even get a letter in reply, complete with a North Pole postmark!
#16. Make Colored Play Dough
You can make your own play dough out of flour, salt, and cream of tartar, plus water and food coloring. Young kids will love playing with red and green (or blue and white) play dough, and you'll love that it's cheap and free of scary chemicals.
#17. Borrow Holiday Books from the Library & Read Them Together
Take the family to the library to pick out some holiday books that can be read over and over again before being returned. Make a note of favorite books and buy them when they're discounted after the holidays.
#18. Take a Holiday Picture for the Scrapbook
No list of holiday family activities is complete without a family picture. This could be the whole gang or even just one of your child doing one of these activities, in a nice setting, or sitting on Santa's lap. There are many places during the holidays that offer great "photo ops" alongside decorations that match your beliefs. Try to find a location that works for photos that will long be cherished by you and your children.
#19. Have a Family Slumber Party
Young children love "camping" indoors, so grab some pillows and blankets and spend the night sleeping near your tree or other holiday decorations. You'll create memories they'll cherish forever.
#20. Have a Fancy Dinner for the Whole Family
If you've already bought the clothes for other holiday events, you may as well have fun getting to wear the fancy garb again. Light candles, turn down the lights and enjoy the giggles of a special night. The best part?
#21. Roast Marshmallows or Chestnuts with the Whole Family
Try your hand at roasting chestnuts or creating a new memory by (carefully) roasting marshmallows in your fireplace. Put on "The Christmas Song" and sing along for extra effect.
These 21 Holiday Activities are Sure to Bring the Whole Family Together
Whether you do one or more of the above suggestions, they can't help but make this a holiday season to remember for years to come.
Either do them as suggested, or add your own personal touch that you know your family will appreciate and get them to enjoy the moment, sharing a fun experience with family and friends.
Whatever holiday you celebrate, share the time with family doing fun activities that will bring laughter and smiles as you do it, and memories that will last forever.